A Quest for Wisdom by David Lorimer
In this article, David Lorimer, Programme Director of the Scientific and Medical Network (former President of Wrekin Trust and the Swedenborg Society) introduces his recently published book 'A Quest for Wisdom – Inspiring purpose on the path of life'.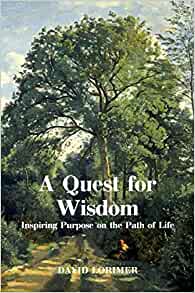 "You'll find in this book there are three sections with 25 essays in all. The first on philosophy, spirituality and meaning. The second on consciousness, death and transformation. The third on taking responsibility, ethics and society.
And the thinkers that I talk about here are many of those who have influenced me over my life.
I'm just going to read a recent poem that addresses some of the themes in the book and it's called 'Deliverance'.
Every year the Earth
Gives birth to new life –
But what about us?
Can we give birth
To a new culture,
A culture of love
A culture of wisdom
A culture of truth
A culture of justice
A culture of freedom
A culture of kindness
A culture of peace
A culture of beauty?
Or will we remain
Huddled in darkness
Trapped in fear
Stifled by control
Cowed into compliance
Cancelled by censors –
Unable to breathe freely,
Sleepwalking backwards
Into digital slavery?
Deep grief wells up –
A sense of human future lost,
Of time being short,
Earth in the balance,
Breakdown and breakthrough
Coming into view.
Will this culture of hope
Be stillborn again?
Or can we finally deliver
This new world together
With courage and love?
The Earth has long awaited
This moment of deliverance
From violence and secrecy,
From deception and evil.
The world can torture
And crucify the good
But the light of love
Endures,
Comes through –
Human hearts crack open,
The birth pangs of one humanity
Awakening oh so slowly,
Agonisingly
Emerging
From the cave of suffering
To greet the rising sun.