A Series of 4 Talks, Monday Evenings
The diverse speakers in this series bring common gifts to share with us as we deal with the challenges of our lives and the uncertainties about the future. Wisdom, intelligence and especially a lively and deep contemplative perspective. They become guides and inspiration for the journey we must follow through the year.
'She Who Prays Truly is a Theologian' - Jane Williams -
Most theologians who have shaped the Christian faith would have shared Evagrius' view that prayer and theology are not separable; but they would also often have assumed that women mystics are pray-ers but not theologians. This session will seek to suggest that people such as Julian of Norwich, Hildegard of Bingen and Teresa of Avila should be studied as much for their theological contributions as for their lives of prayer.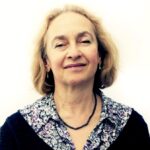 Jane Williams is the McDonald Professor in Theology at St Mellitus College. She is the author of a number of books, most recently The Art of Christmas (SPCK, 2021)
Register for the Full Series
Register for full series (get 4 talks for the price of 3)

All sessions are preceded by a group meditation (optional)

Time to interact with the speaker

Lifetime access to recordings (single sessions registrations give 1 year access)
The prices reflect the need to achieve self sufficiency. Therefore if you're able to give a little more we would be very grateful. If you need a concession please let us know. We do not turn anybody away for lack of resource.