When you come to Bonnevaux, the International Meditation Center of WCCM, you can see Thomas Litzler cultivating quite a large area of land and growing there vegetables and fruits.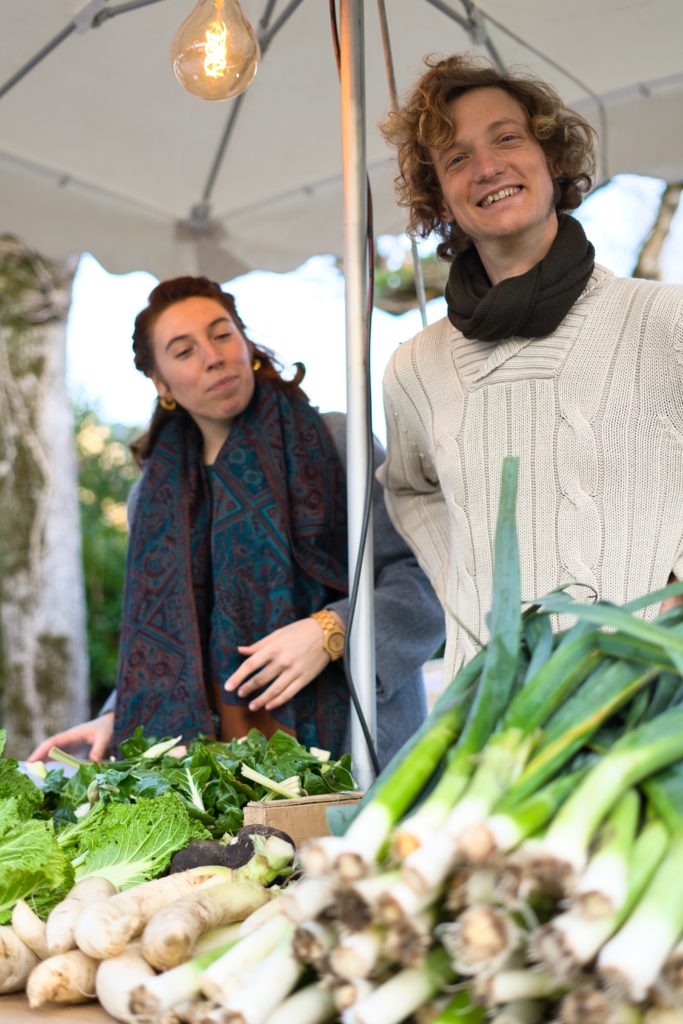 Vladimir:  Thomas, hello, thank you very much for accepting my invitation to this interview. We haven't had a chance to see each other in person yet, but I have seen you on video working on the farm. Watching in, I was thinking that at the first glance people may not have guessed that you work hard with the soil…
How did you get into that? What is your life story in a nutshell?
Thomas:  So indeed, I am living in Bonnevaux and I'm really lucky to be present along with the community here and to enjoy the beautiful environment in Bonnevaux. My life story is still shot and then we'll keep it short. I grew up next to a beautiful forest called the forest of Fontainebleau.
It's a beautiful forest. Really old three, some different landscapes and it's magical. When I was a teenager, like a lot of teenagers, I struggled to find my role, my personality. It was uncomfortable. the only place really where I felt at peace was the forest. So because I was lucky, I could just leave home when I was angry, upset or sad or anything, I could just slam the door and go to the forest five minutes away and be with the trees, be with the birds, breathing the fresh hear. Just one hour of walking in the forest was really peaceful and I felt much better. I could go back home and go back to my duties and occupations with peace and more happiness. So when it was time for me to choose studies, I started studying ecology management of natural ecosystems, management of forests in a sustainable way and then also environmental policies.
"So my thinking in that time was that I should become a public servant in order to develop some environmental policies into the society and have an impact on our planet, on our world by fostering biodiversity, climate change and all of that."
And I did for four years: I did work for a French administration and then I got really discouraged because things were really slow to happen. I was putting a lot of energy into my work and a lot of will and a lot of hopes and actually there is a huge inertia in our world, you see, our occidental world and there are many stakeholders, many people pulling the rope for themselves for towards what they believe is better for society and we have the political games and of course money was always lacking for environmental projects. So it became harder and harder for me to remain in this job.
I felt disconnected to what really matters. including my own personal life was not related enough to nature. I mean I was working in an office, doing meetings, paperwork, a lot on my time in nature was less than 20 per cent. I was living in a flat and you know having a modern occupation, modern hobbies and at some point all of that I understood it wasn't consistent. 
"There was a big gap between what I wanted or what I was dreaming for the world, for mankind, for me as well and the reality of what I was living. So I decided to quit my job, my flat, my modern life and I flew to New Zealand."
I spent one year in New Zealand because I needed to cut with my life to start from a blank page.
I wanted to start anew. Having no background, no pressure, no hopes. I mean no expectations. needed to go to another country and to learn new ways of living from somewhere else, from other people. I thought in New Zealand I could meet people who live really with nature instead of living on nature. You know what I mean? It's not being part of nature instead of living from nature, getting things from nature and never establishing your relationship with nature. So I wanted to meet people who live with a real connection with nature and we will respect nature. And I spent one year and very quickly I developed a real passion for gardening. I didn't use to garden at home. I had very small gardening and when I was in New Zealand most of my time was dedicated to gardening and I really loved it.
So I started to dream about becoming a professional market gardener and this is when I first heard of Bonnevaux, so I was you know, on the other side of the planet and it all came together. Everything was easy and I felt like I was heading to the right place.
Continue watching the full interview with Thomas
A Contemplative Response to Climate Change
The city of Glasgow is preparing to host the vital COP26 Climate Conference from the 1st to the 12th of November. Postponed from last year because of the pandemic, and with the window of opportunity already very tight to make the essential changes, it is now even more urgent that the international delegates negotiate with their focus on the needs of the whole world, and take fully into account those communities already suffering from the warming of the planet.
The outcome of COP26 will change our world. You're welcome to join us for group meditations which will be led 9:00 to 9:30 am UK time from 1st to 12th November. Guest speakers will include Bishop Philip Huggins, Laurence Freeman OSB and Thomas Litzler. 
Join them here via Zoom.