Not so long ago I had not ever heard of this thing called Lectio Divina. The words were nonchalantly mentioned in passing as I arrived at an Ignatian retreat in Tymawr Convent in Wales. It was only hours before my arrival that I had realised that Ignatian was shorthand for silent! I was terrified and thrown off guard and people were now speaking in Latin… I survived, of course. 
Now a number of years hence I have learned that the slow inward repetition of scripture (like the slow repetition of our word) can yield beautiful insight into God's spirit within us and out with us. 'Through Lectio Divina', says St Gregory, 'we learn to know the heart of God'.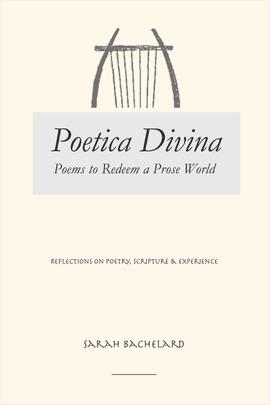 And so to this book, Poetica Divina- Poems to Redeem a Prose World. In it, Sarah Bachelard has beautifully selected twelve contemporary poems and twelve pieces of scripture to use in times of prayer and reflection either personally or in a group. Each chapter begins firstly with the bible passage and then is immediately followed by the poem, the title of the chapter linking them both.
Titles such as 'A Brief for the Defense', 'Reading Rumi in the Red Bear' and 'The Little Duck' (incidentally this poem coupled with Matthew 11:28-30 Come to me all who are weary.. guess the connection) really sparked my interest. The poets chosen include Mary Oliver, Hafiz, WS Merwin. John Foulcher, Ellen Bass and of course the unofficial Godfather of WCCM, Leonard Cohen! Poets that I was familiar with and some that I have never read.
 So with this in mind, and conscious of trying to do things right, I set aside my quiet time, prepared with meditation and selected a chapter to begin. I read each poem and scripture passage slowly, hopefully with an open heart wishing the connections to come, to allow the words and beyond the words to sink deep and teach me. The scripture and poetry sit alongside each other in the most curious and arresting way so that at first one is at a loss to know what they could possibly have to say to one another. This convention is ultimately very helpful however. I found it allowed me to experience the poems and passages afresh (especially the ones I thought I already knew).  I felt somehow free to be like a beginner. Sound familiar? Each chapter ends with a wonderful summation and reflection by Sarah. Sarah skilfully brings out themes to ponder, questions to reflect upon about spirituality, religion, our practice and how it changes the nature of our experience when our eyes are open. 
'She also interweaves factual information about the poets which I found really helpful and interesting. The themes and the teaching is so rich and diverse, so down to earth and profound. They are themes and ideas that you can feel resonating with the prayers that she herself has prayed, the questions she has grappled with.'
Sarah is founder and leader of Benedictus Contemplative Church based in Canberra Australia and the book comes from a series of reflections she shared with her congregation over a number of winters. Sarah's sharing is incredibly nourishing and shines a light on the poetry and also the deeper meanings that can be found. She writes really well in an easily accessible style which I really enjoyed. It feels like sitting in a coffee shop with her and listening to her chat through what she might have thought of that morning! SO refreshing. On a number of occasions whilst using this book in my own quiet time it was as if the penny dropped- I experienced dare I say a moment of deep connection- a delicious but fleeting glimpse of understanding which reminded me of some gifted moments in meditation – especially when on retreat (when there has been a lot of time on the mat)- a generous gift of love when one feels like the understanding is, well, understood.
'Poems do redeem a prose world. They give mystery, meaning, colour and texture to the words that we speak in the world. They help us to discover our innermost feelings, they colour our thoughts and enliven our spirit. – like meditation… '
I am so grateful to Sarah for writing this book and bringing it all together- poetry, scripture –  and for sharing her experience in each chapter. This book will really impact the reader- so share it widely with your friends, or use it in your group. The material provides endless scope for discussion and comment and really will help you to make sense of your own experience with the wonderful Divine Love often hidden in plain sight at the heart of our lives. 
The book is available from www.mediomedia.com 
Other titles by Sarah Bachelard are Experiencing God in a Time of Crisis and A Contemplative Christianity for our Time.