True community happens in the process of drawing each other into the light of true being. In this process, we share a deepening experience of the joy of life, the joy of being, as we discover more and more of its fullness in a loving faith shared with others. The essence of community then is a recognition of a deep reverence for the other. – John Main
Finding balance between the digital and the real world are key to navigating through these uncertain times. After more than 70 days of preventive isolation measures, Colombia -and most countries in Latin America with a few exceptions-, still have restrictions in place which means we are still holding the temporary online meditation sessions and online contemplative masses in Spanish for an extended time. This period has strengthened the bond between the members of our local groups and our extended Spanish speaking communities; collaboration among us has flourished, the connection to the global community has strengthened likewise.
During this time, six members of our Latin American community appeared in a series of interviews in a Colombian catholic TV channel featuring Christian Meditation during the times of Pandemic in which we were able to show the many areas in which meditation can be a vehicle for transformation
We have gathered through webinars with speakers located in the UK and Italy, we featured our first webinar with simultaneous interpretation with Father Laurence. More recently, Odile Van Der Hoff, a meditator from Holland, offered a series of talks on icons in which we also interpreted simultaneously for the Spanish speaking community. The ability to get together and provide simultaneous interpretation has shown us that there are no barriers for engaging and exchanging experiences with meditators from other cultures.
The isolation period has had many positive consequences. It has been a perfect time to keep kids connected to the practice and also to teach kids and parents new to it, how to meditate together as a family. After the joyful experience with meditation sessions for children led by Patty and Enrique Lavin from Mexico, we have now rolled out a twice-weekly online meditation for young meditators facilitated by Colombian meditators. As meditation promotes emotional health and wellbeing, improves attention and reduces anxiety, several young adults think that the practice would be ideal for them.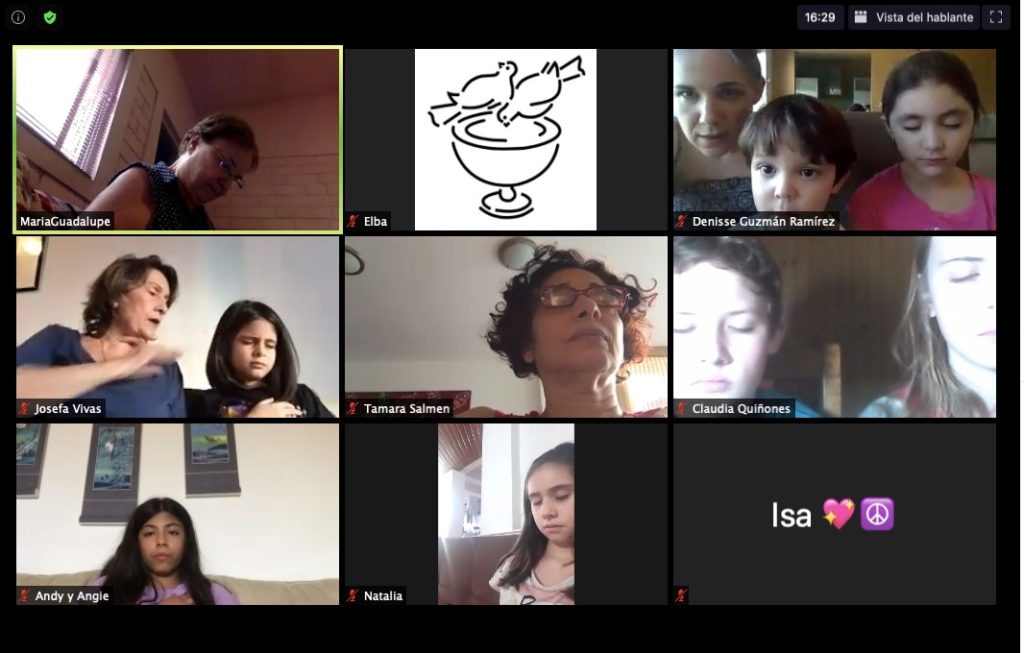 The community in Colombia is just sprouting and along with the launching of a new website there are new online introductory sessions being offered on a frequent basis in addition to the meditation sessions for the young, qi gong and meditation sessions and regular online groups.
The demands for the online offering have grown and each of us involved in organizing and delivering the events must keep deeply, firmly rooted in our own center, otherwise the many demands of our day, in combination with participation in the online offering, can become taxing if are not able to surf the hype of the digital connection and avoid the aversion to it after a while. The continuous adjustment to the routine, being present and keeping the discipline of meditation helps in maintaining a clear vision and healthy connections on and offline. Keeping offline days or limiting digital interaction are healthy alternatives for maintaining the sense of community, keeping relationships refreshed and consolidating our practice.