To the places 
Where the Word Became Flesh and Dwelt Among Us
Like the three kings led by a star and two millennia of pilgrims enduring many dangers and hardship, we have come here. In more comfort but driven by the same spiritual curiosity, sense of the sacred and by the unsatisfiable hunger of faith. Pilgrims travel seeking a deeper experience of faith as itself a journey.
We have landed right at the beginning of Sukkot, one of the three great pilgrimages that Jews make as biblical people. 
For Sukkot they build a hut (sukkah) in their garden. It must be made of two and a half walls and a roof made of branches and leaves. They must be able to see the sky when they are inside the sukkah. The family will eat in this booth and some sleep inside it. 
Obeying these instructions are pragmatically adapted to circumstances. At our hotel in Tel Aviv for the first night a part of the dining area has become a kind of sukkah. Note the children and the food. First and foremost, this is a family faith.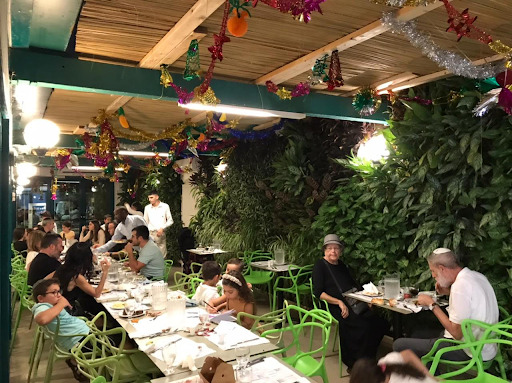 If you think this is crazy, you probably wouldn't be here on pilgrimage anyway. The tradition reminds them of what anyone who has a religious sense of life already knows (and who better than Jews?), that the scenes of our life are insecure, constantly changing, and nothing we gain or suffer or enjoy can be for ever. Life is pilgrimage, try to control it as we may. We live in sukkahs. They are not permanent but we should be grateful if we have one.
At the introductions before our first time of prayer, some said they didn't really know why they were here. They sounded like meditators who find it difficult to express why they make their daily inner pilgrimage. But without it would the external events of every day make sense in the same way?
Tonight we named ourselves as pilgrims and said where we came from. Then we meditated. Doing so, we began to form as a band of pilgrims in this intensive time together. It is already a shared experience, making a conscious decision, starting a practice, uniting the interior journey with an external one.  
Tomorrow we get up early and start where His journey began, in Nazareth.

Receive these in your inbox
Follow Laurence's daily updates from WCCM Contemplative Journey to the Holy Land (2 – 11 October) by signing up to Daily Wisdom, a free email subscription that delivers a short, contemplative insight to your inbox every morning.